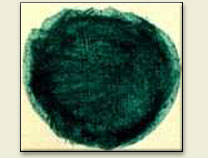 Painted swatch of Viridian.
Brief description of Viridian:
very stable and powerful cold green. It's a Chromium oxide dihydrate. Guignet of Paris patented the process for manufacturing viridian or transparent oxide of chromium in 1859. Its excellent permanence and lack of toxicity could replace all other greens, both ancient and modern.
Names for Viridian:
Alternative names:
Guignet's green
Word origin:
The name "Viridian" comes from Latin viridis = green..
Non-English names:

| German | French | Italian |
| --- | --- | --- |
| Chromoxidhydratgrün | vert émeraude | verde ossido di cromo |

Origin:
artificial
Chemical name:

Chromium(III)-oxide dihydrate
Example of use by artists:
Viridian analysis spots fake Van Gogh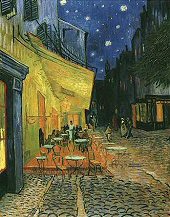 Vincent Van Gogh, Café Terrace at Night, 1888, Kröller-Müller Museum, Otterlo
Van Gogh used for a painting only some tubes. Never all. For his masterpiece, Night terrace he used: Prussian blue and viridian and some carmine for the blue air and the door in the front. Yellows were only chrome lemon and for the orange he used the chrome lemon and geranium lake.
Studying paint compositions may give quite specific answers on ancient pigment production and adds to the armory of forensic research. Analyses on more than 90 paintings from around the turn of the 20th century (Van Gogh, Kandisky, Hodler, Klee) have revealed that the majority of samples with viridian contain a production by-product, a low water containing amorphous chromium oxide borate which is absent in contemporary viridian. In contrast to modern samples of the post-war period, earlier viridian products are associated with this process related by-product, amorphous chromium oxide borate. This pigment information is used in combination with other data for the authentication and dating of paintings.