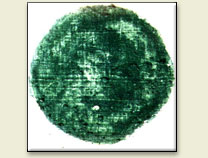 Painted swatch of Cobalt green.
Brief description of Cobalt green:
It's a green cobalt-oxide-zinc-oxide, semi-transparent of limited hiding power discovered by Rinmann in 1780. Due to its permanence it can be used in all painting techniques. The poor tinting strength and high cost of cobalt green kept it in limited use. Field called it, "chemically good and artistically bad"
Names for Cobalt green:
Alternative names:
Rinmans green, zinc green
Word origin:
The name "Cobalt green" comes from From Middle High German kobolt = an underground goblin (cobalt was thought to be detrimental to silver ores).
Non-English names:

| German | French | Italian |
| --- | --- | --- |
| Rinmansgrün | vert de cobalt | verde cobalto, verde di zinco |

Origin:
artificial
Chemical name:

Cobalt(II)-oxide-zinc(II)-oxide
Example of use by artists:
Unpopular 18th Century pigment, cobalt green could now lead to more energy efficient, faster computers.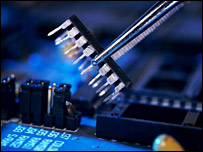 Spintronics promises smaller, more powerful microchips
Cobalt Green is a pigment that never became a standard in the average artists palette because it was very expensive and its tinting power was considered weak. It is good that the scientists at the University of Washington have reconsidered this centuries-old pigment and discovered perhaps its true power lies in storage and energy, not in creating paintings.
Cobalt Green is a pigment first invented by Sven Rinmann a Swedish Chemist in 1780. Recently researchers at the University of Washington discovered that this centuries-old pigment used for painting has special magnetic properties that could lead to a break through in the field of spintronics.
Spintronic instruments are used in the area of computer storage and memory. Before the Cobalt Green discovery, spintronic devices only functioned at a chilly 200 degrees below zero Celsius or minus 328 Farenheit.
The future of spintronic devices, when they are finally harnessed to be used at room temperatures, is that computers would work at unheard of speeds. The goal, say scientists, is to be able to start your computer and have your operating system and software load immediately as in the turning on of a light switch. The other possible implication is that the new spintronic technology would require very little energy.