-->
About the chemical structure:
Chemical name:
Titanium dioxide
Formula:
TiO2
3D model:


Crystal structure of anatase

Crystal structure of rutile

grey = titanium, red = oxygen

Crystal system:
Anatase: Tetragonal - Ditetragonal Dipyramidal (at Mineralogy Database)
Refractive index:
anatase: 2.3 - 2.65
How can you identify Titanium white?
Imaging:
UVF: no
OM: Microcrystalline in nature with fine particles. Very fine pseudo-opaque but generally colour less crystals. Often rounded rhomboids. The crystals are so small that they often appear cream to a light brown opaque colour under normal incident light on the microscope. Particles are usually up to 1μm in size.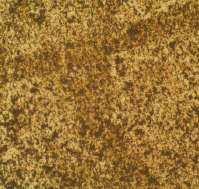 Microscopic appearance at x500 mag
Analytics:
It's identified by means of FTIR and Raman.
Raman spectra: ColoRaman
FTIR spectra: IRUG
Usage and handling:
Permanence:
Toxicity:

Lightfast: excellent.

Degradation processes: unaffected by dilute alkali's, acids, light and air. Non-reactive with drying oils and therefore has avery slow drying time. High oil absorbing nature.

Non toxic.

MSDS: Kremer
Literature:
Artists' Pigments. A Handbook of Their History and Characteristics, Vol. 3: E.W. Fitzhugh (Ed.) Oxford University Press 1997, p. 295-355
Philippe Colomban, Gerard Sagon and Xavier Faurel, Differentiation of antique ceramics from the Raman spectra of their coloured glazes and paintings, J. Raman Spectrosc. 2001; 32: 351–360.