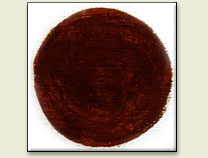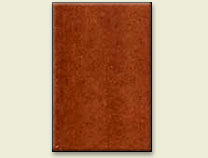 Painted swatch of Umber.
Brief description of Umber:
Umber is a natural mixture of iron and manganese oxides and hydroxides. Used throughout history, it has earthtones from cream to brown depending on the amount of iron and manganese compounds and is totally stable. This pigments it's known also has Sienna earth.
It could in two varieties:
Raw earth umber (Raw Sienna earth): the earth just mined and ground into a pigment
Burnt umber (Burnt Sienna earth): the raw earth umber pigment is also calcinated in order to get darker shades.
Names for Umber:
Alternative names:
Word origin:
The name "Umber" comes from obsolate English, shade, from Latin umbra. .
Non-English names:

| German | French | Italian |
| --- | --- | --- |
| Brauner Ocker | terre d'ombre naturelle, terre d'ombre brulee, terre de Siena brulee | terra d'ombra, terra d'ombra bruciata, terra di Siena, terra di Siena bruciata |

Origin:
natural earth
Chemical name:

Iron(III)-oxide, partly hydrated + manganese oxide + aluminium oxide
Example of use by artists:
Umber is among the fantastic 7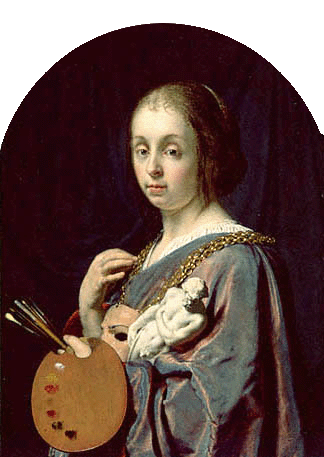 Frans van Mieris, Pictura (An Allegory of Painting),1661, private collection
In a painting by Vermeer's contemporary Frans van Mieris, the allegorical figure representing Pictura can be seen holding a typical palette. Van Mieris' represented the palette necessary for painting flesh tones. The layout of the pigments, from light to dark, was common. From top to bottom, one can clearly distinguish white lead, the principle component of the lighter flesh tones, then yellow ocher, vermilion, madder lake, green earth, umber and carbon black.
The representation of the flesh palette, which appeared frequently, had a particular significance. Willem Beur, a Dutch painter an author of a manual for painters, wrote: "Just as we humans consider ourselves the foremost amongst animals; so too, are we the foremost subject of the art of paintings, and it is in painting human flesh that its highest achievement are to be seen, whenever a painter succeeds in rendering the diversity of colors and string hues found in human flesh and particularly in the faces, adequately depicting the intricacy of the diversity of people or their different emotions."