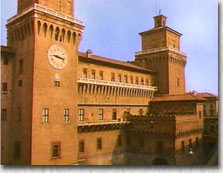 Within the magnificent palace of an Italian Renaissance prince, there was often found a lavish private art gallery, known as a camerino or studiolo. This gallery served the prince as a sanctuary from the pressures of court life and as a treasure chamber for his most precious art. (These were the precursors of the modern museum.) In the city-states of the Renaissance, a Duke's residence had to combine the grandeur of a palace, suitable for the sumptuous entertainment and public display of court life, with the security of a fortress, as a refuge in time of war.

In Alfonso's Ferrara, palace and castle were separate, linked by a covered, raised passageway.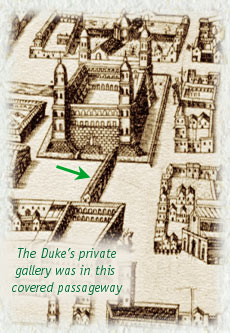 It was in this passageway that Alfonso created his lavish private quarters, which included a private gallery where he could retire or impress impressionable guests. This gallery was designed to display his most prized paintings and sculpture—to reflect his magnificence as the Duke. For his studiolo, Alfonso commissioned a series of five paintings to decorate the walls. The topics had been designed by Mario Equicola…and the Feast of the Gods was the first of these.
---
< Previous
Next >