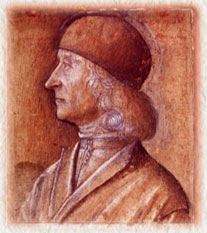 The first painting which Alfonso acquired for his studiolo was the Feast of the Gods, completed by Bellini in 1514. Bellini died in 1516. Later, after other commissions from Raphael and Fra Bartolomeo had failed to materialize because the painters had died, Alfonso turned to Titian to complete the project during the period 1518-1529, according to the design created by Mario Equicola in 1511. Titian contributed three of the five paintings needed to fill the studiolo and the fifth was painted by Ferrara's court painter, Dosso Dossi. As will be seen, Bellini's painting, the Feast of the Gods, was to be altered twice during that period—once by Dosso to modernize the design and later by Titian to harmonize the Dosso re-working with the other Titian paintings in the studiolo.

Giovanni Bellini was recognized as the greatest Venetian painter of the fifteenth century. Fifty years later, Titian, who had been Bellini's student, was acclaimed as "the father of modern painting."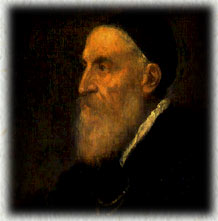 The Feast of the Gods is unique because it combines on a single canvas painting by the greatest Venetian painters of the fifteenth and sixteenth centuries. Each complements the other and each contributes to the whole. Bellini's array of deities, set as a classical frieze, is painted with striking patches of color, brilliantly accentuated with dazzling contrasts of light and shade. As a background, Titian creates a breathtaking landscape, again using color, as in his Danaë, not to highlight but to unify and intensify the total effect.
---
< Previous
Next >