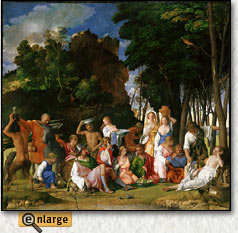 It has always been known that the Feast of the Gods (right) was painted by two great artists, Giovanni Bellini (1427-1516) and Titian (1490-1576). Titian repainted most of Bellini's landscape. This fact was recorded by Vasari in 1568.
In the years since, however, a more complex story was lost... only to be rediscovered four centuries later. This exhibit is about the rediscovery of this painting's past.
The story begins in the 1950's, when researchers at the National Gallery of Art took X-ray photographs of the Feast of the Gods. They discovered glimpses of a previously unknown composition. Not only did they find Bellini's landscape hidden behind Titian's, they also found an extra hidden landscape that had been long forgotten, as well as other interesting changes. The X-ray photograph is shown below right.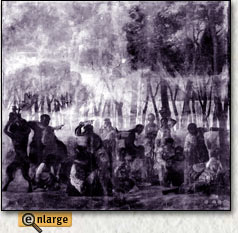 Looking closely at the X-ray, the most dominant feature is the frieze of trees which continues from the right to the left. We will explore the X-ray, and other evidence at length elsewhere in this exhibit, but first, we look at the historical context of this Renaissance masterpiece.
---
< Previous
Next >