Ancient roots.
While the term "spoken word" was not popularized until revival of poetry slams in the 1980s, the focus on developing poems specifically for performances dates back to ancient times, when epic poems like Homer's Odyssey were recited for entertainment. Later, poetry was incorporated into theatrical events, when forms such as the ode accompanied music throughout the acts.
Over the centuries, oral poetry gave rise to a variety of forms and styles. Chants and ghazals played major roles in religious and spiritual worship. Ballads and villanelles captured the adventure and romance of their day.
Although these oral forms of poetry were quite popular, the greater role of printed text transformed many listeners into solitary readers, and new poets began to focus on the written presentation of their work.
Modern rebirth.
As early 20th century artists rethought longstanding perspectives on art, many poets abandoned more accepted forms of poetry to experiment with combining various media. For example, Tristan Tzara and his fellow Dadaists incorporated costumes and noisemakers into their public performances. This experimentation with sound and performance was also embraced by Italian and Russian Futurists, such as F.T. Marinetti and Khebnikov.
American experimentation with performance poetry lagged behind its European counterparts, as it was largely limited to a few daring artists like Harry Kemp, who in 1909 entered a lion's cage to read poetry to 500 onlookers. However, both Louis Zukofsky and Charles Olson motivated artists to look deeper into the performance of poetry. Thus, the Beat Poets of the late 1940s and 1950s, led by Allen Ginsberg and his poem, "Howl," twisted traditional chants and jazz rhythms into poems rife with social and cultural commentary, helping explode the popular acceptance of performance poetry and spurring on a new generation of artists like Ginsberg, Jack Kerouac, Amiri Baraka and Diane di Prima.
| | |
| --- | --- |
| | |
Performance on the rise.
Yet the dominant poets of the 1960s and 1970s continued to underestimate the importance of performance poetry. The rise of hip-hop in the late 1970s led to new ways for nontraditional wordsmiths to showcase their skills onstage.
In response to what he saw as elitist and overly academic approaches to poetry, Chicagoan Marc Smith began hosting open mic nights in 1984, focusing these events on poets performing their work, as opposed to reciting it aloud. The popularity of these events led Smith to host performance poetry competitions, called poetry slams, where competitors were given three minutes to present their work to a set of judges selected from the audience. To this day, Marc Smith continues to host The Uptown Poetry Slam in Chicago, an event featuring a touring poet, an open mic, and a poetry slam.
In its infancy, slam poetry was held in disdain by academic and elite poets, largely because anyone could sign up to participate in a performance or competition. In addition, work was not published and marketed in journals and books, the traditional method of earning credibility as a poet. However, slam poetry's appeal began to grow beyond the café reading and competition scene and into academia, as both traditional poets and scholars recognized the social relevance and artistic challenge of slam.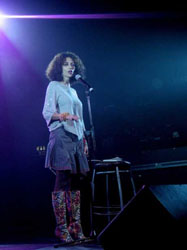 All eyes on the stage.
The popularity of slam poetry resulted in Poetry Slam International's National Poetry Slam competition series, as featured in Slamnation, a documentary created by Paul Devlin covering the 1996 National Poetry Slam. Given performance poetry's hip-hop roots, the movement caught the attention of recording industry icon Russell Simmons, who spearheaded the HBO spoken word series, Def Poetry, which aired for six seasons and became a Broadway production. Def Poetry led to even greater exposure of the nation's ever-emerging group of performance poets, such as Suheir Hammond, Anis Mojgani, and Marty McConnell.
While the final season of Def Poetry Jam aired in 2007, HBO continues to air a special on the youth national poetry slam, Brave New Voices. Larger audiences still receive slam poets at packed events across the country and the world, such as the reading series at the Bowery Poetry Club in New York City and the competitions for the National Poetry Slam. Just as other poetry forms are transitioning to web-based journals, slam poets are achieving new levels of prominence thanks to YouTube and other user-generated media outlets.
The National Endowment for the Arts, in conjunction with the Poetry Project, has also helped to spur a new generation's interest in and involvement with performance poetry. Tens of thousands of students participate in the Poetry Outloud National Recitation Series, and educational programming helps teachers integrate spoken word writing into their curriculum.
---