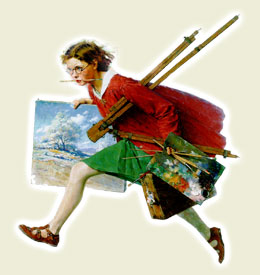 Sources
Sources for most material on this site comes from established art historical and scientific publications, as cited throughout this site. Primary sources include the multivolume series from the National Gallery of Art, "Artists' Pigments : A Handbook of Their History and Characteristics."
Classroom pigment recipies from: Patricial Hill of Millersville University, PA. Michael Henchman of Brandeis University, MA. Juraj Lipscher of Kantonschüle Baden, Switzerland. Sister Mary Virginia Orna of College of New Rochelle, NY.
Online resources include: Color essays from Thomas Seilnact, translated by Juraj Lipscher. Some pigment information from Studiomara, some old pigment recipies from the Household Cyclopedia of General Information, published in 1881. Some recipes from "How to make paint?" by Kama Pigments.
References to the chemical causes of color originated from texts from Kurt Nassau. See additional information about the causes of color.
Many V. Kandinsky quotes from Concerning the spiritual in art, Dover Publ. New York 1977, translated by M.T.H. Sadler . Early pigments from "Earth Pigments: The Artist's Oldest Paintbox" by Carmi Weingrod at Inksmith. Thomas, Anne Wall. Colors From the Earth. New York: Van Nostrand Reinhold. 1980. Windels, Fernand. The Lascaux Cave Paintings. London: Faber and Faber n.d. Watrous, James. The Craft of Old Master Drawings. Madison: U. of Wiseonsin Press 1967.
Images
Images are derived from many public domain and academic sources, including: Horse paintings from Chauvet-Pont-d'Arc: (c) French Ministry of Culture and Communication / Regional Direction for Cultural Affairs - Rhône-Alpes region / Regional department of archaeology. Titanium dioxide factory photos from Kronos Inc., Wyckoffs Mills Road, P.O. Box 700, Hightstown, NJ 08520. Sennelier store front and pigments from Savoir Faire. Iron ore mining from Daniel Smith's Inksmith.
Legal
Copyright (c) 2001 WebExhibits, except portions licensed from other parties. All rights reserved. All portions of this site may be printed or otherwise reproduced for educational, personal, and nonprofit uses. All reproduction for commercial purposes is prohibited without express written permission from WebExhibtis.
While we have used our best efforts to verify that the information contained herein is accurate, we make no warranties to that effect, and shall not be liable for any damage that may result from errors or omissions in this exhibit.
Bibliography
Cennini, Cennino, The Craftsman's Handbook, Dover edition, 1960. Reprint
Feller, Robert L., ed., Artists Pigments : a Handbook of their History and Characteristics, Vol. 1, National Gallery of Art, Washington, D.C., 1986.
Roy, Ashok, ed., Artists Pigments: a Handbook of their History and Characteristics, Vol. 2, National Gallery of Art, Washington, D.C., 1993.
Smith, Ray, The Artist's Handbook, Knopf, New York, 1993.
West Fitzhugh, Elisabeth, ed., Artists Pigments : a Handbook of their History and Characteristics, Vol. 3, National Gallery of Art, Washington, D.C., 1997