Signac and Neo-Impressionism
Paul Signac (1863-1935) began work in the Impressionist manner and was a founding member of the "Independent Painters" with Seurat; both men contributed to the Salon. Signac soon adopts the Divisionist style of painting, becoming its most ardent publicist. He is also the most articulate member of the group, publishing the book, From Delacroix to Neo-Impressionism. Today, the book is regarded perhaps more as a manifesto in defense of the movement than an entirely accurate description of the Divisionist methods. Signac advocates the banishing of "muddy mixtures" (usually the result of pre-mixing colors) in favor of the luminous intense colors blended by the viewer's eye.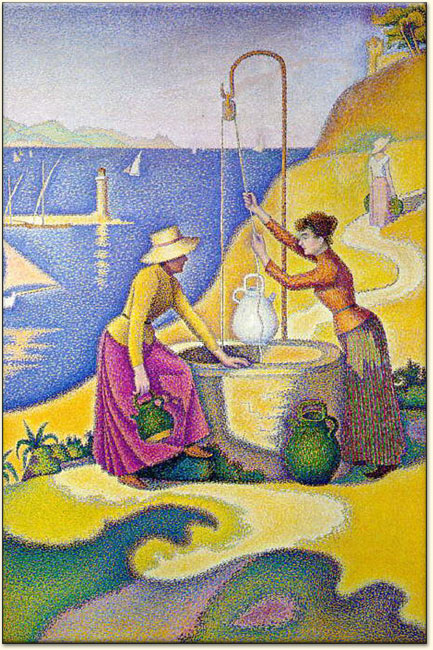 In 1885, Signac meets Camille Pissarro (1830-1903), who feels he is reaching a crisis in his career and adopts Pointillism for a time. However, after awhile, Pissarro feels that Pointillism is too restrictive and inhibitive, and reverts to a freer manner of working. Other Neo-Impressionist artists include Henri-Edmond Cross (1856-1910), who adopts it circa 1890, working in the south of France with Signac. Cross is a daring colorist who exploits the expressive freedom the new technique offers. Charles Angrand (1854-1926) from Normandy adopts it briefly, depicting form in a Pointillist manner until 1900. Later, he uses freer, broader brushwork. Maximilian Luce (1858-1941), who meets Seurat and Signac in 1887, uses the "little point," as they describe it. All of them are interested in much the same subject matter, though Signac paints more landscapes. They all also share committed anarchist political beliefs, although Seurat is more secretive.
The late 19th century writers on theory also provide fresh ideas. One of them is the French art critic Charles Blanc (1813-1882), who in 1879 devises a color system based on Chevreul's, constructing a color circle in three chromatic triangles without including black or white, but which includes the complementaries of the three primary colors. In his best-known book, The Grammaire, he notes: "A canvas… is essentially a flat surface, covered with colors, assembled in a certain order." The Impressionist painters explore this, often creating a tension between surface and apparent depth (see Monet's painting La Grenouilliere, where patterned brushwork emphasizes the surface.)
These ideas are explored by the American physicist Nicholas Ogden Rood (1855-1902), who is also a successful painter, and by the French scientist and philosopher Charles Henry (1859 - 1926), who Seurat first meets in 1886. Seurat is searching for a relationship between line, color and tone, and the impact these have on the emotions. Henry bases his ideas on earlier theories, producing a theory on color, form and line; some he calls "dynamogenous" and the opposite, "inhibiting." Lines moving in an upward direction are suggestive of happiness, while those moving downwards suggest sadness. He then applies these to the color circle, so the upward-moving lines cover a segment of warm color, i.e., orange-red, therefore resulted in feelings of stimulation and happiness. Or did they always do so? Look again at The Circus.

Seurat applies these theories to various paintings, but interprets them in his own personal manner. In Le Chahut (The Can-Can), the upward lines of legs, echoed by lips curved upwards in forced smiles, the curved moustache of the male dancer, and the bows on the dancers' feet all project the artificiality and forced gaiety of the entertainment world. In this case, the warm colors now reinforce this idea; the leering spectator becomes a symbol for a voyeuristic audience. Vincent van Gogh was equally fascinated by such theories on color and sometimes used color to communicate disagreeable emotions (see The Night Café).
Signac often spends summers in the south of France. There, the next generation of artists, to be known as "Fauves," work with him. Strictly speaking, they cannot be called Pointillists, but in some of the early paintings by Henri Matisse and André Derain, among others, they adapt this use of color and manner of painting to suit their own vision of a new modern art.