Seydou Keita and Yinka Shonibare: Fabric Patterns as the Means of Expression
The studio photographer Seydou Keita (1921-2001) began his career in 1945 in Bamako, French Sudan (now Mali). Although Keita was self-taught, he established a strong reputation and people traveled miles to visit his studio. From 1962 to 1977, Keita worked as a Government photographer for Mali.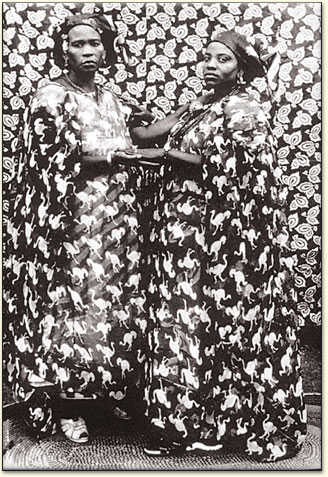 Keita's subjects come from varying backgrounds and social classes, including family members, farmers, shopkeepers, and office workers. Because having a photograph taken was an important event, his sitters often asked to be portrayed in a specific way. Many brought their valued possessions and held self-styled postures. Some of his male sitters posed in traditional tribal costume, while others dressed like Europeans. Keita also lent costumes to his subjects. Ladies' dresses reflect contemporary fashion, less influenced by European styles. Women often wore large dresses that were displayed for the photos. It was only after the late 1960s that Western garments such as skirts became fashionable.
Compare and contrast Keita's Untitled (Woman and Child, 1949) and Untitled (Sisters, Two Great Ladies, 1958). Both photographs depict the sitters in non-Western dresses. The portrait of two sisters appears energetic. The patterns of the women's dresses interact with the background. It is difficult to distinguish between the subjects and their surroundings. Besides connecting them to the background, the similarity of the sisters' dresses suggests a close relationship. This connection is further emphasized in their pose. They hold hands and face each other. Therefore, the subjects and their surroundings are interrelated, which creates a lively atmosphere with a sense of movement.
The fact that Untitled (Sisters, Two Great Ladies) is a black and white photograph may misleadingly emphasize the illusion of unity, since differing colors are invisible. A comparison to Yinka Shonibare (1962), the British artist of Nigerian origins, helps to demonstrate this point. Shonibare also uses colorful and energetic fabrics in his art. Victorian Philanthropist's Parlour (1996-97) represents a Victorian room, furnished in unconventional fabrics. While the fabric patterns create a unified effect and encourage the eye to move around, the different colors distinguish one piece of furniture from another.
Shonibare uses a batik fabric that has African characteristics. However, instead of originating in Africa, the fabric was invented in Indonesia, and the batik printing technique was industrialized by Dutch colonizers in the mid-19th century. Soon after, the British began to produce the fabric in Manchester for West African markets. Shonibare buys his batik from the Brixton market in London. Therefore, Shonibare addresses the (mis)perceptions and the questionable origins of art that is interpreted as "African." In Shonibare's work, the fabric comes to symbolize the complex history of Western colonialist exploitation in African countries.