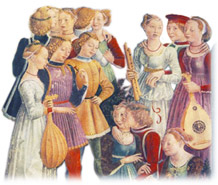 What was music like in Ferrara? The following songs are of the period when the Feast of the Gods was painted. The composers worked in Ferrara or its environs between 1500 and 1530. The instruments are recorders, krumhorns, lutes, violin, viola da gamba, cornetto and sackbut. Click a title below to listen...

La Bernardina - Josquin des Pres (1450 - 1521)
In 1503, Ercole I of Ferrara hired Josquin as his maestro di capella, but the temperamental musician was fired after a year. This short trio, played here on two lutes and treble viol, was written in the Italian style.
> MP3: L, M, H
Carmen Hercules - anonymous
This four-part piece appears in an early 16th-century manuscript. The tune Hercules (in the tenor line) honored Ferrara's Duke Ercole d'Este. It is performed on a set of recorders, doubled by plucked lutes and viol.
> MP3: L, M, H
Sicut Lillium inter Spinas - Antoine Brumel (c. 1460 - 1515)
Brumel followed Josquin as maestro di capella at Ferrara. This tiny motet on the biblical text like the lily among the thorns, so is my love among the daughters is performed on a set of four recorders.
> MP3: L, M, H
Carmen - Heinrich Isaac (1450 - 1517)
Heinrich Isaac worked many years in Florence and was considered to replace Josquin. This carmen (or song) is performed on violin, viola da gamba, cornetto (wooden instrument with fingerholes and cupped mouthpiece) and sackbut (forerunner of the modern trombone).
> MP3: L, M, H
Amor, gl'inganni tua - anonymous, from early 16th-century Florence
This four-voice strambotto is played on a set of krumhorns. These curved wooden instruments have a capped double reed, and produce a surprising nasal buzzing within a small range of notes. Their closest modern relative is the bagpipe, although the krumhorn is blown directly with the mouth.
> MP3: L, M, H
Lasso, che pur - Cipriano de Rore (1516 - 1565)
This is a later work, written by Cipriano during his tenure in Ferrara between 1546 - 59. Originally a three-part vocal piece, it is performed here on two recorders and violin.
> MP3: L, M, H
Meyor d'este non ay - Bartolomeo degli Organi (1474 - 1539)
Bartolomeo worked around Florence, and his music was known in Ferrara, where the title of this trio would have amused the Este family. It is performed on treble, tenor, and bass violas da gamba (a six-stringed bowed instrument held between the legs).
> MP3: L, M, H
Want this music? To download in MP3 format, click on L, M or H. L is low quality, 32 kb/s; M is medium quality, 96 kb/s; H is high quality, 160 kb/s.
Music performed by Brandeis University Early Music Ensemble, Massachusetts, USA.

---
< Previous
Next >