A page from the "Causes of Color" exhibit...
How do you represent colors?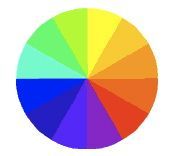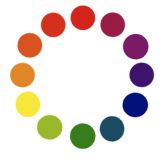 There are essentially three different types of color circles.
Conceptually, the oldest of all color circles is based on subtractive color and uses cyan, magenta, and yellow as the primary colors. Often blue, red and yellow are used as the primaries, instead of cyan, magenta and yellow. This variation is historical in origin, and based on the availability of pigments. Painters and printers favor these circles.
Red, green and blue are often the primary colors of choice for scientists, as these colors are based on light (additive color). The Standard Table of the International Commission on Lighting (Commission Internationale de l'Éclairage, CIE) is an example of this type of color atlas.
The third type is based on perception, and is favored by psychologists. It uses the primary colors of red, green, blue, and yellow, which correlate with the colors sensed by the cones in the eye. We perceive red, green, and blue as pure colors. Orange, on the other hand, appears to be a mixture of yellow and red. There are no colors that combine red with green, or yellow with blue, so we perceive them as opposites; there is no such thing as reddish-green, or yellowish-blue. An example of a color system based on perception is the Swedish Natural Color System (NCS).
A color atlas is a useful tool representing the full range of colors. This is achieved by assigning a single point in a space to each color, and arranging similar colors close to each other. This space can then be mapped in a series of single maps, together making up a color atlas. Every possible color can be described by three numerical attributes: hue, saturation and brightness (HSB).