Andy Warhol's Marilyn Prints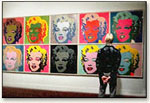 Andy Warhol (1928-1987) was a key figure in Pop Art, an art movement that emerged in America and elsewhere in the 1950s to become prominent over the next two decades.
The Fauves used non-representational color and representational form to convey different sensations. Apply the same idea to the portrait of Marilyn Monroe below, using the controls to adjust the colors. How does the color affect the mood?
Unlike the Fauve colors, the non-representational colors of Pop Art do not depict the artist's inner sensation of the world. They refer to the popular culture, which also inspires Warhol to experiment with the technique of silkscreen printing, a popular technique used for mass production. In doing so, Warhol moves away from the elitist avant-garde tradition. Initially, many spectators received this new marriage between art and commodity culture with little enthusiasm.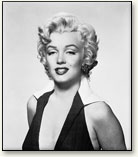 Warhol was fascinated with morbid concepts. Sometimes, however, the results are astonishingly beautiful, such as the resonating, brilliantly colored images of Marilyn Monroe. The Marilyn canvases were early examples of Warhol's use of silkscreen printing, a method the artist experimented with, recalling:
In August 62 I started doing silkscreens. I wanted something stronger that gave more of an assembly line effect. With silkscreening you pick a photograph, blow it up, transfer it in glue onto silk, and then roll ink across it so the ink goes through the silk but not through the glue. That way you get the same image, slightly different each time. It was all so simple quick and chancy. I was thrilled with it. When Marilyn Monroe happened to die that month, I got the idea to make screens of her beautiful face the first Marilyns.
Using photo-stencils in screen-printing, Warhol uses photographic images for his screenprints. The screen is prepared using a photographic process, and then different color inks are printed using a rubber squeegee to press the paint onto the painting through the screen.